"We bought the corned beef and had corned beef sandwiches with 2 parts. Then made corned beef hash with the third part. Both were very good. We bought it again." – Margie C
Gary's QuickSteak Corned Beef can be used to make quick Reuben sandwiches, appetizers, dips, and is great in corned beef hash! It can be cooked from frozen (no thawing required), contains 19g of protein, cooks fast, and has a tender, juicy flavor. Gary's QuickSteak Offers Quality Sirloin, Chicken, and Corned Beef–Ready to Eat in Minutes. Simply Sizzle, Flip, and Savor!
Corned Beef
Authentic Flavor
Gluten-Free
19 Grams of Protein Per Serving
3 Servings Per Package
Package is 12 OZ. NET WT.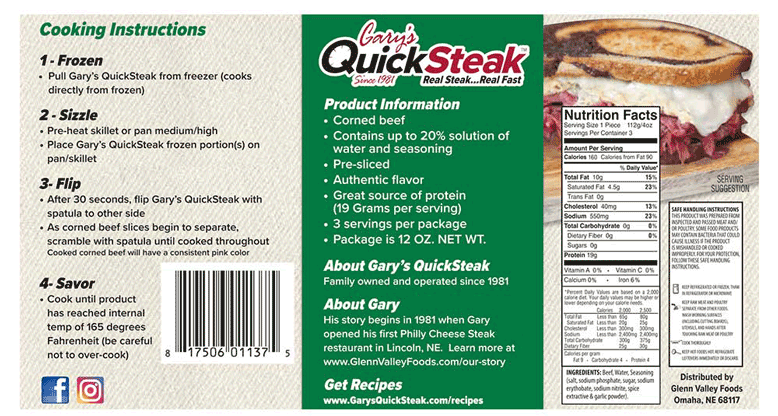 Ingredients:
Beef, Water, Seasoning (salt, sodium phosphate, sugar, sodium erythobate, sodium nitrate, spice extractive, and garlic powder)
Cooking Instructions
Frozen
Pull Gary's QuickSteak from freezer (cooks directly from frozen).
Sizzle
Preheat skillet or pan on medium/high.
Place Gary's QuickSteak frozen portion(s) in pan/skillet.
Flip
After 30 seconds flip Gary's QuickSteak with spatula to other side.
As beef begins to brown, separate slices with spatula.
Savor
Cook until product has reached internal temperature  of 165 degrees Fahrenheit (be careful not to overcook).