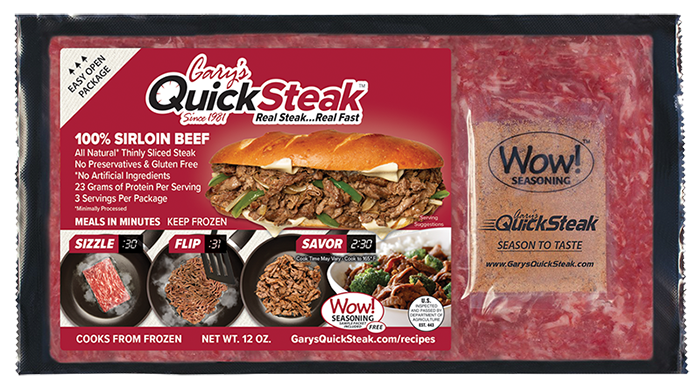 "Saw an ad on Facebook and had my husband pick up a pack from Hy-Vee. Tonight I made Philly cheesesteak sandwiches and they were a hit with family. I can't wait to get more!!!" – Stacy C.
Put a warm, nutritious meal on the table fast with Gary's QuickSteak 100% Sirloin Beef. This mouth-watering steak can be taken directly from your freezer and be ready to serve in minutes. Why does it cook so fast? Gary's patented process, of course! Place the frozen, pre-sliced steak in a pan and listen for the sizzle. When one side is cooked, flip, and watch the individual ribbons release, giving you the most versatile meat to top sandwiches, soups, salads, and more! Lastly, savor the juicy, tender taste of the meat that it took you only minutes to make!
100% Sirloin Beef
No Preservatives
Gluten-Free
23 Grams of Protein Per Serving
3 Servings Per Package
Package is 12 OZ. NET WT.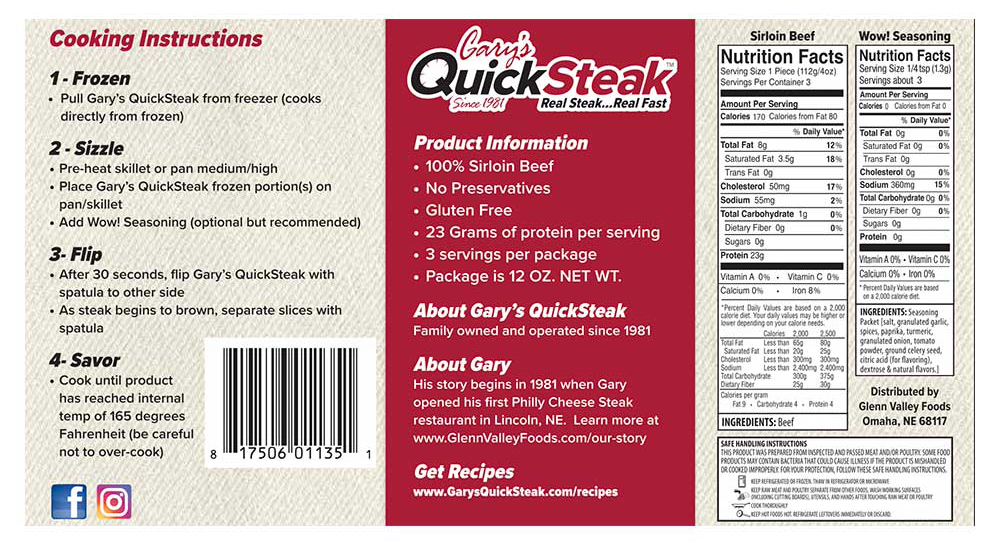 Ingredients:
Beef
Seasoning Packet Ingredients:
Salt, Granulated Garlic, Spices, Paprika, Turmeric, Granulated Onion, Tomato Powder, Ground Celery Seed, Citric Acid (for flavoring), dextrose, and natural flavors.
Cooking Instructions
Frozen
Pull Gary's QuickSteak from freezer (cooks directly from frozen).
Sizzle
Preheat skillet or pan on medium/high.
Place Gary's QuickSteak frozen portion(s) in pan/skillet.
Add Wow! Seasoning (optional, but recommended).
Flip
After 30 seconds flip Gary's QuickSteak with spatula to other side.
As steak begins to brown, separate slices with spatula.
Savor
Cook until product has reached internal temperature  of 165 degrees Fahrenheit (be careful not to overcook).