Chicken Enchilada Casserole
This Chicken Enchilada Casserole is made using Gary's QuickSteak Chicken Breast!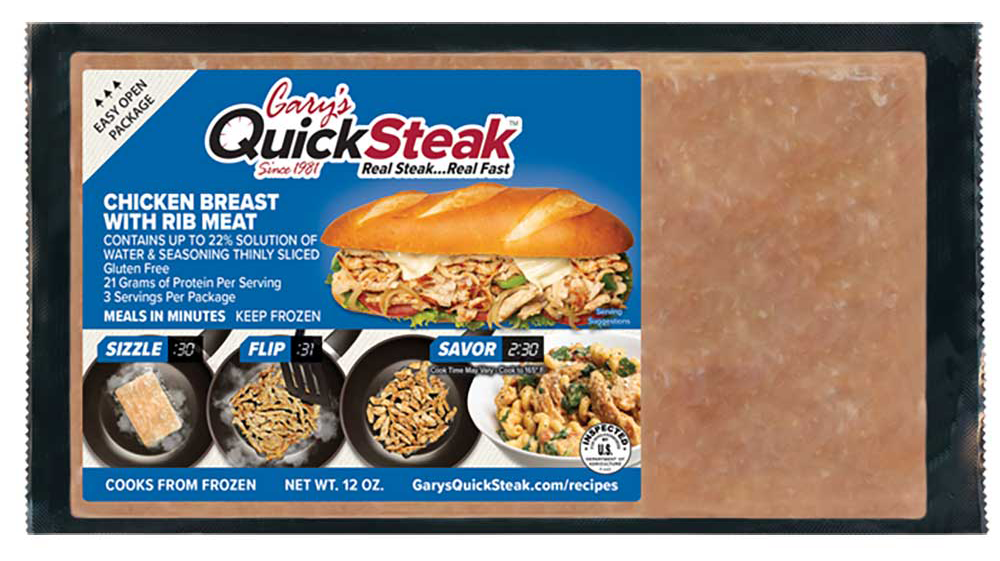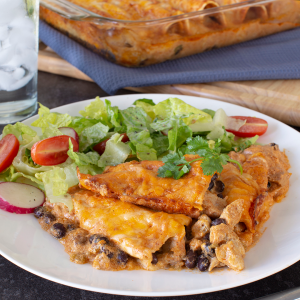 Chicken Enchilada Casserole
Ingredients
1

12 oz Package Gary's QuickSteak Chicken 

2

Tbsp

oil

1/2

Onion, diced

1

4 oz can Green Chilies, diced 

1

15 oz can Black beans, drained and rinsed

8

Flour Tortillas 

1

C

Sour Cream

1

C

Enchilada sauce 

1

tsp

Cumin 

3

C

Colby Jack cheese or Mexican Cheeses, shredded

1

can

Cream of Chicken Soup
Instructions
Sauté QuickSteak Chicken according to package directions. Remove from pan, set aside. 

Add oil to pan, sauté onions, cook until translucent, add chicken back to pan.

Add drained and rinsed black beans, ½ tsp cumin and ½ can of green chilis, stir to combine. Set aside

In a medium bowl mix ½ cup of enchilada sauce, cream of chicken soup, sour cream, remaining green chilies and cumin. Stir to combine. 

Spray a 9" x13" casserole or cake pan with cooking spray.

Dip tortilla into sour cream mixture coating both sides, Lay flat in casserole/pan, scoop chicken mixture down the middle of tortilla, top with 2 tbsp shredded cheese, roll up tortilla keeping filling in the middle, slide tortilla to the end of pan, continue with the remaining tortillas until all are rolled and pan is filled.

Pour remaining ½ cup Enchilada Sauce over the top of the tortillas and top with the remaining cheese.

Bake uncovered 20 to 25 minutes, until cheese is bubbling and starting to brown.

Remove from oven and let rest for 5 to 7 minutes before serving. Serve with a green salad.  

Address:
6824 J Street Omaha
Nebraska 68117
Telephone:
(402) 905-2706
We're Open
Mon-Fri: 8AM – 5PM