This Reuben Quesadillas is made using Gary's QuickSteak Corned Beef!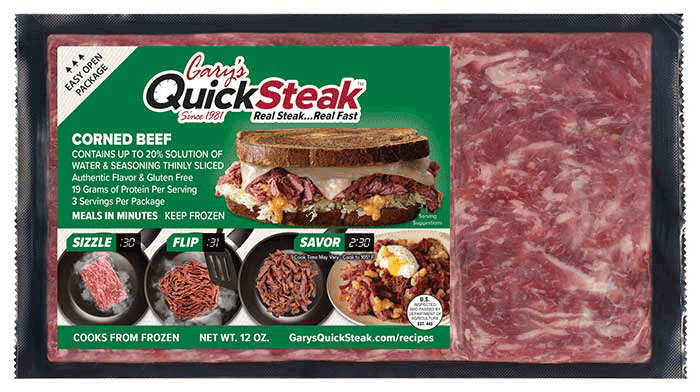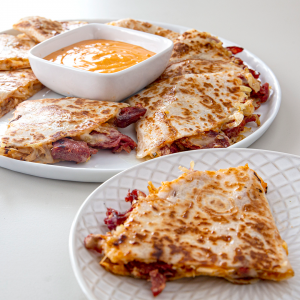 Reuben Quesadillas
Ingredients
1

12 oz package Gary's QuickSteak Corned Beef 

1

8 oz package Swiss & Gruyere Cheese, shredded 

2

C

Sauerkraut, drained

1

tsp

Caraway Seeds

1/4

C

Thousand Island Dressing 

4-6

6" Tortillas 
Instructions
Prepare QuickSteak Corned Beef according to package directions.

Add sauerkraut and caraway seeds to pan with cooked corned beef. Stir together, then set aside. 

Preheat skillet, being careful not to get it too hot as the tortillas may overcook before the cheese melts. 

Assemble quesadillas: spread 2 Tbsp. Thousand Island dressing on tortilla shell, sprinkle approximately 1/3 cup cheese on top of dressing, add meat mixture to one half of tortilla. Fold the top half over the bottom half of the shell, press both sides together, and place in heated skillet. 

Cook until golden brown on both sides and cheese fully melts, flipping occasionally so they don't burn.

Repeat with remaining tortillas. Serve quesadillas with remaining Thousand Island dressing. 

Address:
6824 J Street Omaha
Nebraska 68117
Telephone:
(402) 905-2706
We're Open
Mon-Fri: 8AM – 5PM