This Reuben Casserole is made using Gary's QuickSteak Corned Beef!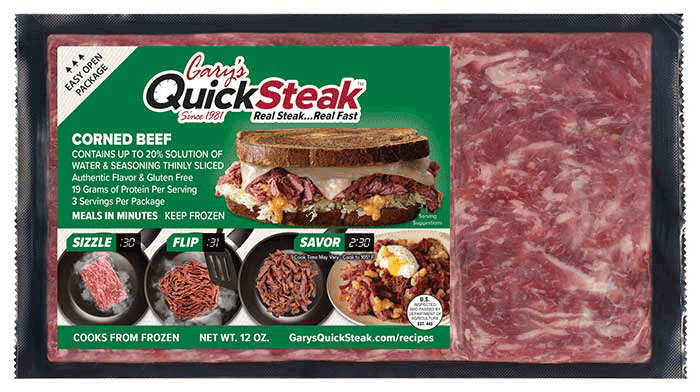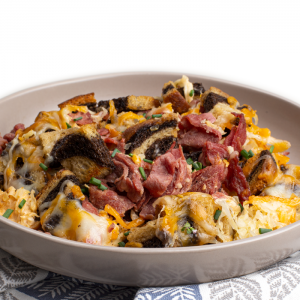 Reuben Casserole
Ingredients
8

slices

Rye Bread (cut into 1 inch cubes)

1/2

C

Butter (melted)

1

12 oz. Package Gary's QuickSteak Corned Beef

16

oz

Sauerkraut (jarred or bagged)

1/4

C

Onion (finely diced)

1

Tbsp

Spicy Brown Mustard

1

C

Swiss Cheese (grated)

1

C

Cheddar Cheese (grated)

1/2

C

Thousand Island dressing

1/4

C

Mayonnaise

1/4

tsp

Black Pepper
Instructions
Place cubed rye bread into a 2-quart plastic bag or large bowl and mix with melted butter.

Place buttered cubes onto a rimmed baking sheet.

Bake until lightly browned, approx. 15 minutes, stirring occasionally, set aside.

Prepare Gary's QuickSteak Corned Beef according to package directions in a large ovenproof skillet. Remove meat from skillet.

Drain sauerkraut and squeeze as much extra liquid from kraut as possible.

Add all remaining ingredients to the skillet, add kraut and prepared corned beef and mix together.

Add buttered rye bread and mix all ingredients in skillet, coating bread cubes.

Place skillet into the oven and bake for 40 minutes or until filling is bubbly.

Address:
6824 J Street Omaha
Nebraska 68117
Telephone:
(402) 905-2706
We're Open
Mon-Fri: 8AM - 5PM