Chicken Street Tacos with Tomato & Mango Salsa
This Chicken Street Tacos recipe is made using Gary's QuickSteak Chicken Breast!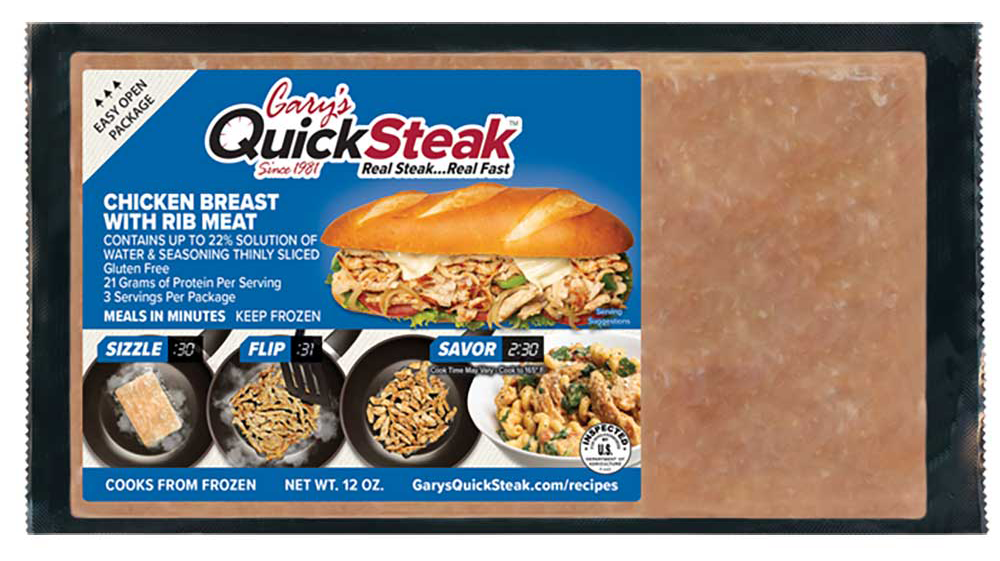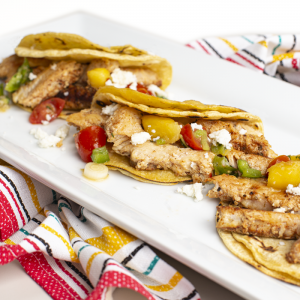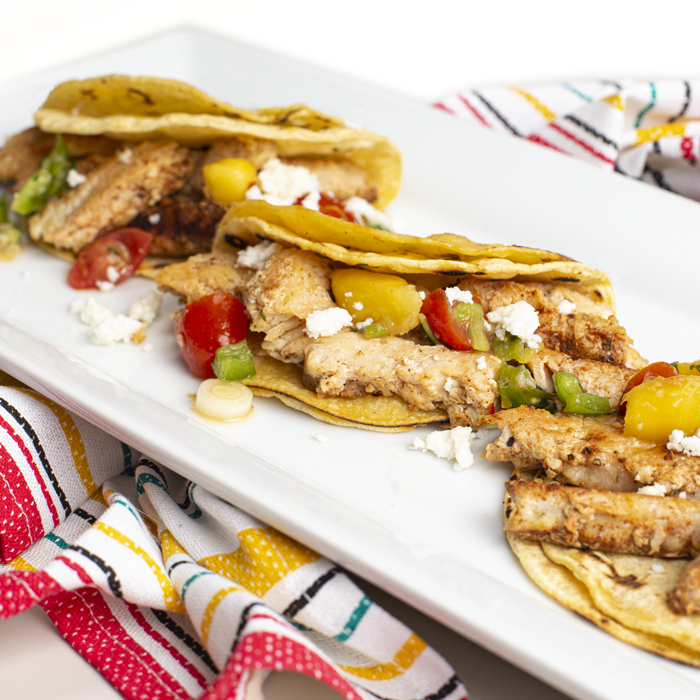 Chicken Street Tacos with Tomato and Mango Salsa
Ingredients
1/2

tsp

Paprika

1/4

tsp

Ground Cinnamon

1

tsp

Cumin

1/4

tsp

Oregano

1/4

tsp

Ground Black Pepper

1

Lime (juiced about 1/4 cup)

1

12oz pkg Gary's QuickSteak Chicken

1

Tbsp

Canola or Avocado Oil

8-16

White Corn Mini Tortillas (warmed)

Cojita Cheese (or any shredded cheese)

Mango Salsa (or any prepared salsa or pico degallo)
Instructions
In a small bowl mix first 5 ingredients.

Add oil to large skillet, add Gary's QuickSteak Chicken to skillet. Sear on one side.

When patties begin to break apart easily, spread dry ingredient mix over patties and flip in the pan. Continue to break apart until fully cooked with no pink remaining.

Add lime juice to pan and stir the spiked, cooked meat with the juice.

Layer two warmed tortillas together, top with chicken, salsa and crumbled cojita cheese. Fold and serve.
Notes
Tomato and Mango Salsa
3 ripe Mangos ( peeled and diced)
10-12 Cherry Tomatoes (quartered)
6 Green Onions (sliced)
¼ cup  Fresh Cilantro Leaves (rough chopped)
1 Jalapeno (seeded and minced)
¼ tsp. cumin
1 large Lime (juiced, about ¼ cup)
Salt (to taste)
In a serving bowl, combine the prepared fresh ingredients. Mix in cumin and lime juice. Stir all ingredients together. Season to taste with salt, stir again, let the salsa rest for 10 minutes.

Address:
6824 J Street Omaha
Nebraska 68117
Telephone:
(402) 905-2706
We're Open
Mon-Fri: 8AM - 5PM