This Chicken Lettuce Wraps recipe is made using Gary's QuickSteak Chicken Breast!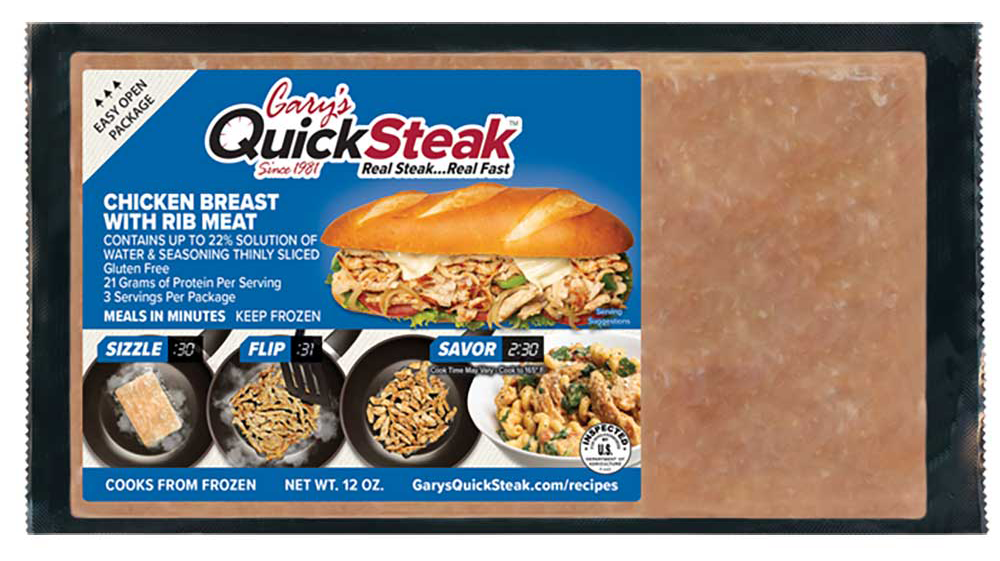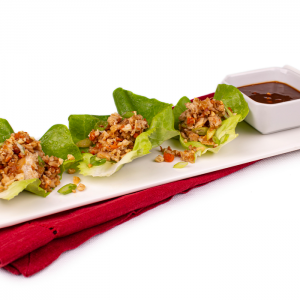 Chicken Lettuce Wrap
Ingredients
1

12 oz. Package Gary's QuickSteak Chicken

2

Tbsp

Olive Oil

2

Cloves Garlic – minced

1

Onion – diced

1/2

C

Green Peppers, Diced

1/2

C

Red Peppers, Diced

1/4

C

Hoisin Sauce

2

Tbsp

Soy Sauce or Coconut Aminos

1

Tbsp

Rice Wine Vinegar

1

Tbsp

Fresh Ginger – grated

8

oz

can Water Chestnuts, drained and diced

1

Tbsp

Corn Starch

2

Green Onion – Sliced

1/4

C

Peanuts - chopped

1

Head Butter Lettuce
Instructions
Sauté chicken according to package directions, when chicken is fully cooked remove from pan.

Place cooked chicken in a food processor to break meat apart into smaller pieces. (May rough chop chicken on cutting board if desired.)

Add 1 tbsp. oil to pan used for chicken, add minced garlic, diced onions, grated ginger, green and red peppers, sauté 2 to 3 minutes or until onions are translucent.

In a small bowl mix Hoisin sauce, soy sauce, rice vinegar and cornstarch.

Add sauce mixture to sautéed vegetables, heat until sauce is thickened, then add chopped cooked chicken, sliced green onions and chopped water chestnuts to pan and heat through.

Remove from pan and keep warm.

Serve in lettuce leaves. May also be served over white rice or soba noodles. Garnish with Peanut Sauce and chopped peanuts.
Notes
PEANUT SAUCE
½ tsp. Garlic Powder
¼ tsp. Powdered Ginger
4 tbsp. Soy Sauce or Coconut Aminos
3 tbsp. Hoisin Sauce
1 tbsp. Sesame Oil
1 tbsp. Peanut Butter
2 tsp. Sweet Chili Sauce
Whisk all ingredients together until well combined.

Address:
6824 J Street Omaha
Nebraska 68117
Telephone:
(402) 905-2706
We're Open
Mon-Fri: 8AM - 5PM