Chicken Cavatappi with Spinach
This Chicken Cavatappi recipe is made using Gary's QuickSteak Chicken Breast!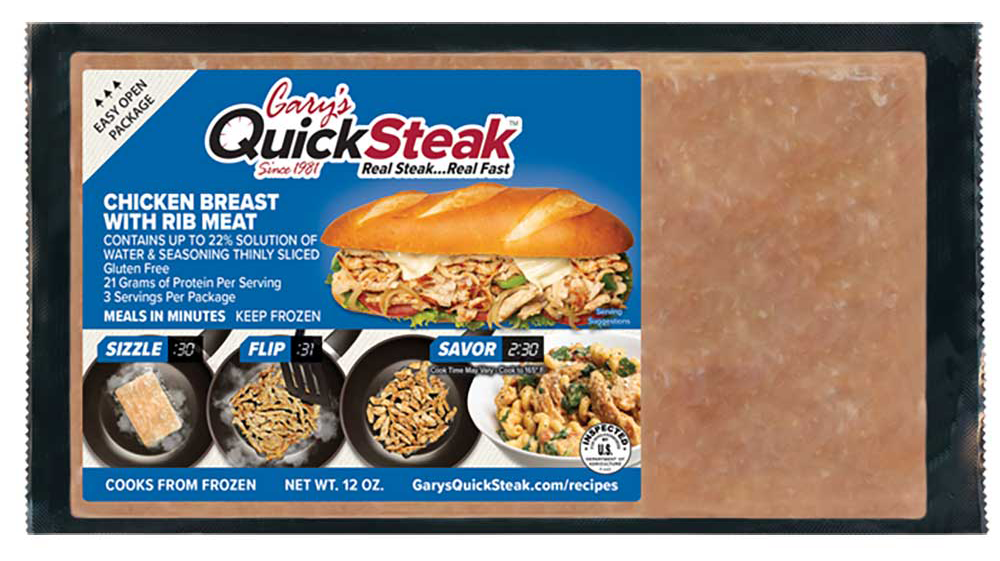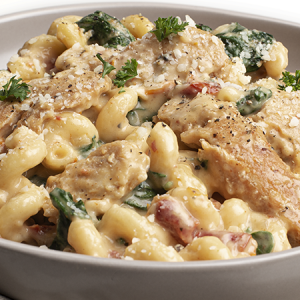 Chicken with Cavatappi Noodles and Spinach
Ingredients
1

12 oz. Package Gary's QuickSteak Chicken

1/2

tsp

Smoked Paprika

1

Tbsp

Canola or Avocado Oil

2

Tbsp

Butter

1

Onion – medium (white or yellow, diced)

3

Garlic Cloves (finely diced)

1/3

C

White Wine (may substitute Chicken broth)

1

jar

9 oz. Sun Dried Tomatoes (cut in strips, drained)

1/4

C

Flour

2

C

Chicken Broth

3

C

Milk – full fat (divided)

2

tsp

Herbs de Provence

8

oz

Cavatappi Noodles

5

oz

Baby Spinach leaves

1

C

Parmesan Cheese (fresh grated)

6

oz

Velveeta Cheese (cubed)

1/2

C

Gruyere Cheese (shredded)

Fresh Parsley (chopped)
Instructions
Drain oil from sun dried tomatoes and set aside tomatoes in a small bowl, discard all but two Tbsp. oil.

In a large skillet prepare Gary's QuickSteak Chicken according to package directions, when meat is completely cooked add smoked paprika and stir.

Remove chicken from pan and place on warm plate, cover to keep warm, set aside.

In same skillet heat the butter and 1 Tbsp oil until the butter is melted.

Add the onion and garlic saute until the onion becomes transparent, add white wine/broth if used, and simmer 5 minutes, or until reduced down.

Add the sun-dried tomatoes, 2 tbsp reserved oil into skillet, cook 2 to 3 minutes.

Add flour and stir to combine with onion and tomatoes, slowly stir in chicken broth, then add 2-1/2 cups milk, herbs de province, salt, pepper to taste.

Bring to slow simmer, add dry cavatappi noodles, mix in and bring to a simmer.

Reduce heat to medium low and stir occasionally as sauce thickens and noodles cook. (10-12 minutes)

When noodles are al dente, tender but still firm, add spinach and stir through until wilted.

Remove pan from heat and stir in all of cheeses, add remaining ½ cup milk, stir and then add chicken, with any juices on the plate.

Mix gently until warmed through and combined.

Sprinkle with chopped parsley.

Address:
6824 J Street Omaha
Nebraska 68117
Telephone:
(402) 905-2706
We're Open
Mon-Fri: 8AM - 5PM