This Carne en su Jugo is made using Gary's QuickSteak Sirloin!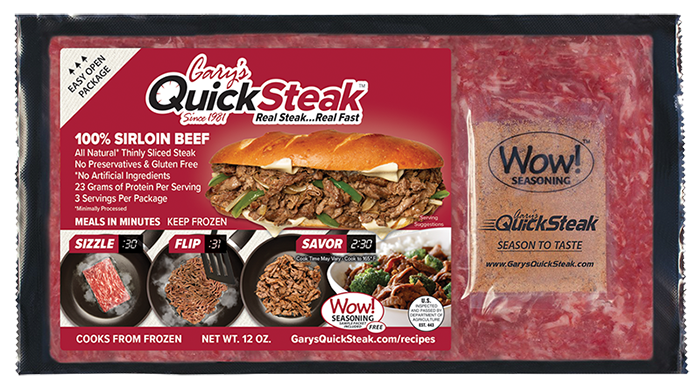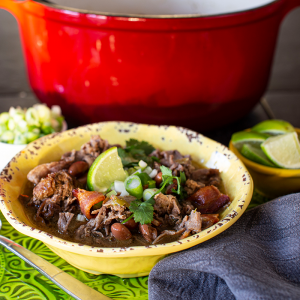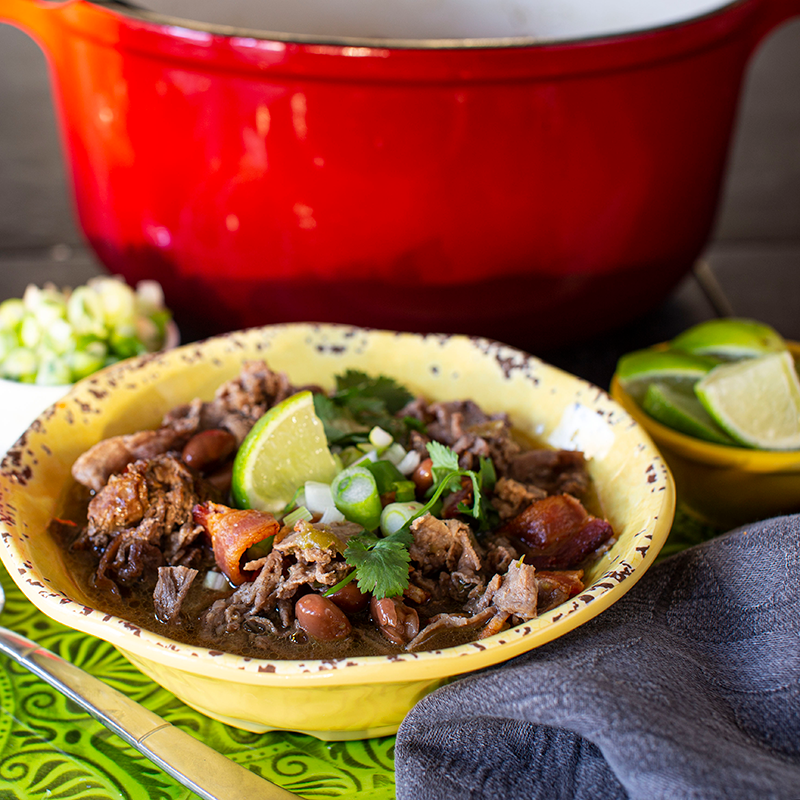 Carne En Su Jugo
Ingredients
1

12 oz package Gary's QuickSteak Sirloin Beef 

1

pkg

Wow! Seasoning (included with Gary's QuickSteak) 

1/4

tsp

Ground Black Pepper 

6

slices

Bacon, cut in 2" pieces 

3-4

Tomatillos, husks removed, quartered 

2-3

Serrano chili peppers, seeded and chopped

1

large clove Garlic, crushed 

1/2

C

Water 

3

C

Beef Broth

2

cans

Pinto Beans (15.5 ounce)

1/2

Onion, diced 

6

Tbsp

chopped Cilantro

1

Lime, cut into wedges 
Instructions
Combine the serrano peppers, crushed garlic, tomatillos, and water in a small saucepan over high heat to bring to a boil. Cover and lower heat to medium-medium low and simmer for 10 minutes. 

Remove pan from heat and allow to cool. Pour the boiled contents into a blender or food processor. Blend until smooth. Set aside. 

Cook the bacon in a large, heavy 3-quart stockpot until crisp--about 10 minutes. Remove and drain on a paper towel-lined plate. Pour all but one tbsp bacon grease from pot into a heatproof container.

Place QuickSteak Sirloin beef into stockpot. Sauté until meat begins to steam on the top and turn meat over and break apart with spatula. Add Wow! Seasoning and black pepper. 

Pour the tomatillo mixture over the cooked beef and seasonings. Stir together and bring to a boil.

Add beef broth and 2 cans of pinto beans into the beef mixture. Reduce heat to medium. Cover and bring to a simmer. 

When heated through, stir cooked bacon into the beef mixture and then add to bowls. Garnish each bowl with cilantro, diced onion, and a lime wedge. 

Address:
6824 J Street Omaha
Nebraska 68117
Telephone:
(402) 905-2706
We're Open
Mon-Fri: 8AM – 5PM