Bourbon Bacon Cheesesteak
This Bourbon Bacon Cheesesteak is made using Gary's QuickSteak Sirloin!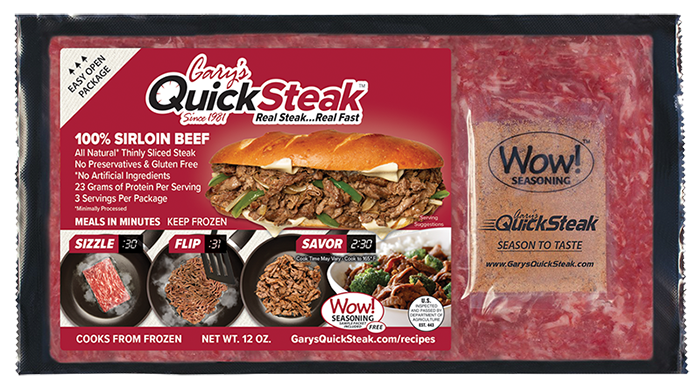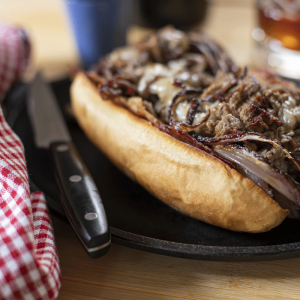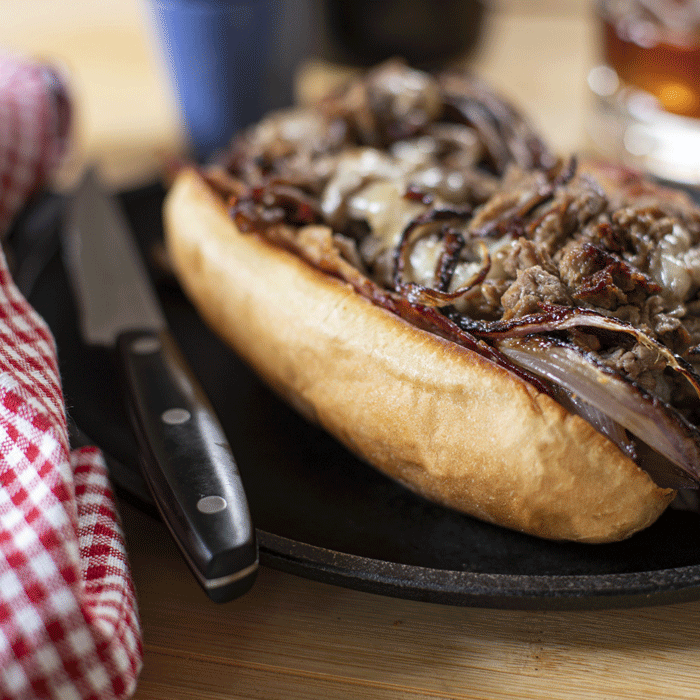 Bourbon Bacon Cheesesteak
Ingredients
4

oz

Gary's QuickSteak Sirloin puck

2

slices

thickcut bacon

4

oz

thick onion slices

1

Tbsp

Maple Syrup

2

oz

Bourbon (we used Jack Daniels)

2

oz

pineapple juice

2

slices

pepper jack cheese

1

8" sub roll, split and toasted

To taste, WOW seasoning
Instructions
Heat large pan to 350 degrees F and start to cook bacon, when bacon grease starts to accumulate add the onions.

When the bacon is near done, move onions to one side of pan and drizzle syrup on bacon until it is crisp, remove from pan.

Scrape any fines from bacon and syrup into the onions and place steak on pan and let sizzle for 30 seconds.

Flip steak, let cook 20 seconds and separate slices while mixing onions in.

Finish cooking steak and add Jack Daniels and pineapple juice to pan, allow to steam off and mix well into steak/onions.

Arrange steak mixture in a mound the size of your roll and top with bacon and cheese and allow to melt.

Using a spatula, lift the steak and cheese from the pan and place it in the toasted sub roll.

Address:
6824 J Street Omaha
Nebraska 68117
Telephone:
(402) 905-2706
We're Open
Mon-Fri: 8AM - 5PM