This Beef Stuffed Peppers recipe is made using Gary's QuickSteak Sirloin!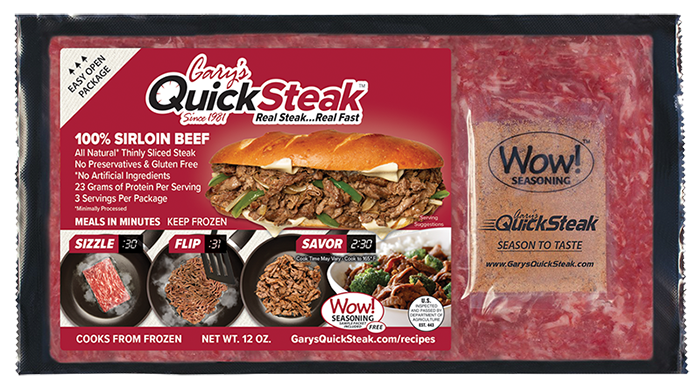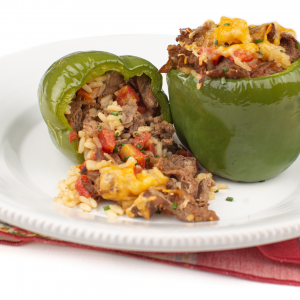 Beef Stuffed Peppers
Ingredients
1

12 oz. Package Gary's QuickSteak Beef

8

Green Peppers, medium

1/2

C

Water

1

14-1/2oz can Diced Tomatoes and Green Chilies

1

tsp

Cumin

1

pkg

Wow! Seasoning

1

8.8 oz. Package Uncle Ben's Ready Rice

2

C

Mexican Cheese Blend
Instructions
Preheat oven to 375°. Cut tops off peppers and remove seeds.

Place ½ cup water on the bottom of a shallow microwave safe pan and place green peppers upside down in pan and microwave for 8 minutes on high.

Take peppers from microwave, remove from water and set aside.

Prepare beef according to package directions, add Wow! seasoning, cumin, diced tomatoes and green chilies, stir together.

Add rice to beef mixture and heat through.

Place 2 tbsp cheese into bottom of each green pepper, fill each pepper with meat mixture and place into a 13 x 9-inch baking dish.

Top each pepper with 2 additional tbsp. cheese blend.

Cover with foil and bake 20-25 minutes, remove foil and top with remaining cheese blend, bake an additional 5-10 minutes or until the cheese is melted and peppers are tender.

Address:
6824 J Street Omaha
Nebraska 68117
Telephone:
(402) 905-2706
We're Open
Mon-Fri: 8AM - 5PM