Looking for a quick and easy dinner recipe? These loaded Philly fries are sure to hit the spot!
Gary's QuickSteak Sirloin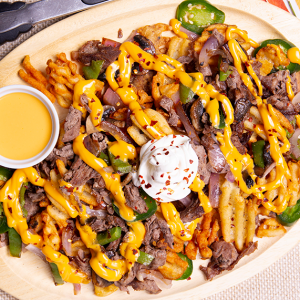 Philly Fries
Ingredients
1

4oz Gary's QuickSteak Sirloin puck

2

oz

onion, chopped

2

oz

sliced mushrooms

2

oz

chopped bell pepper

1

Tbsp

butter

8

oz

French fries

4

oz

cheddar cheese sauce or queso

1

Tbsp

Sour Cream

1

Jalapeño, sliced
Instructions
Place fries in preheated oven and begin next step when they are half way done.

Heat butter in large pan to 350 F, place steak, onion, pepper and mushrooms in and let sizzle for 30 seconds.

Flip steak, let cook 20 seconds, separate slices and mix in onion/pepper/mushrooms.

Finish cooking steak mixture and place over top of the hot and crispy French fries.

Drizzle with cheese sauce, sprinkle jalapenos and top with sour cream.