Try out our Gary's QuickSteak Chicken Breast in this delicious Chicken Pesto Sub Sandwich.
Gary's QuickSteak Chicken Breast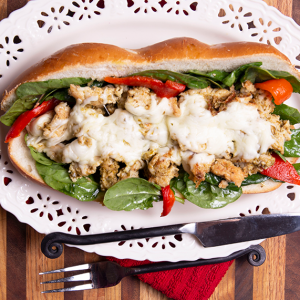 Chicken Pesto Sub
Ingredients
1

4oz Gary's Quick Steak Chicken puck

1

Tbsp

butter

2

oz

diced onion

1

oz

chopped garlic

2

oz

roasted red peppers cut into strips

3

oz

prepared pesto sauce

2

oz

grape tomatoes

3

oz

sliced mozzarella cheese

1

8" crusty baguette

1

C

fresh baby spinach

2

Tbsp

Italian dressing
Instructions
Heat butter in large pan to 350 F, place chicken, onion, garlic and peppers in and let sizzle for 30 seconds.

Flip chicken, let cook 20 seconds, separate slices and mix in onion/garlic/peppers.

Cook chicken to 165 degrees F, add pesto,  tomatoes and cheese then stir over low heat until cheese is melted.

Toss Spinach and place in split roll. Add the chicken/cheese mixture and serve.