If you're looking for a dish outside of the traditional cheesesteak that is packed with flavor, try out this Bavarian cheesesteak served on a pretzel roll.
Gary's QuickSteak Sirloin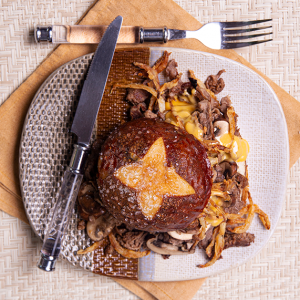 Bavarian Cheesesteak
Ingredients
1

4oz Gary's QuickSteak Sirloin puck

2

oz

onion, chopped

2

oz

sliced mushrooms

1

Tbsp

butter

1

Pretzel roll, lg

4

oz

cheddar cheese sauce

1

oz

Belgium pale ale or your favorite beer(optional)

2

oz

fried onion straws
Instructions
Heat butter in large pan to 350 F, place steak, onion and mushrooms in and let sizzle for 30 seconds.

Flip steak, let cook 20 seconds, separate slices and mix in onion/mushrooms.

Finish cooking steak and add beer (let evaporate) then cheese sauce.  Heat thoroughly.

Split pretzel roll and add steak mixture, top with fried onions and serve warm.